Casted Heater Ring Type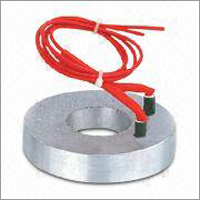 Casted Heater Ring Type
Product Description
We are identified as one of the leading organizations, engaged in manufacturing and supplying Casted Heater Ring Type. This heater offers a high quality and efficient method of heating and controlling extruders, compression, molding platens, heat sealers and vacuum forming platens. Our dexterous workforce uses best quality materials, sourced from trusted vendors to manufacture this heater. This heater is built to provide high accuracy temperature control of +/-2 degrees. Casted Heater Ring Type is available in various sizes and watt densities ranging from 10 to 60 watts per square inch.
Features:
High operating temperatures
Pressure casted ensures porosity free high density casting
Extremely ruled and resistant to damage

Sunrise Products is one of the celebrated Casted Heater Manufacturers in Delhi. These casted heaters are used in high-temperature applications including heat dies, nozzles, extruders, aluminium, and metal, etc. These consist of a tubular heating component and are available in cast iron, aluminium, and brass casting to meet several application requirements. It's a fit & forget technology that works for years trouble-free.
These Casted Tubular Heaters are accessible with cooling tubes, which helps to make a control on heating of the plastic processing Extruders. Additionally, they ensure uniform heating and have a high tolerance power. Their high operating temperature and enduring life increase its demand in the industry. We are occupied with the advanced resources that are used for the purpose of uplifting the features and performance of the Aluminium Casted Heaters.
Being the prominent Industrial Casted Heaters Suppliers and Exporters, we push our limits to attain maximum customer satisfaction. Dial our number to buy any type or size of Metal Casted Heaters in India at the most sensible price. Hurry Up! Call now.
Features:
High operating temperatures
Air-cooling option
Resistant to damage
Precise and accurate control
High watt densities available
Manufactured From:
Applications:
Heat dies and nozzles
Heating Industry
Food Industry
Painting Industry
Fiber industry
Glass and ceramics industry
Paper industry
Farming and animal husbandry
Technical Specifications Of Casted Heaters
| | |
| --- | --- |
| Heating element | PTC resistor, self regulating and temperature limiting |
| Temperature safety cut-out | to protect against overheating in case of fan failure |
| Axial fan, ball bearing | airflow see table |
| | service life 50,000h at 25°C (77°F) |
| Connection | 2-pole clamp 2.5mm², clamping torque 0.8Nm max. |
| Casing | plastic according to UL94 V-0, light grey |
| Optical indicator | thermostat control lamp |
| Mounting | clip for 35mm DIN rail, EN 50022 |
| Fitting position | vertical |
| Dimensions | 100 x 128 x 165mm |
| Operating / Storage temperature | -45 to +70°C (-49 to +158°F) |
| Protection type / Protection class | IP20 / II (double insulated) |
| Approvals | UL File No. E204590 |